Classic Locomotives of Scotland
Classic Locomotives of Scotland, issued on 8 March, is the second of four miniature sheets highlighting some of the workhorses of the tracks, who criss-crossed Scotland to satisfy its increasing industrial demands.
The earliest railways in Scotland were built for commercial and industrial purposes to convey coal to local waterways, but this quickly expanded to forge essential links with burgeoning industrial locations including factories, quarries and docks.
Many of the locomotives had working lives of several decades before diesel and electric technology completely took over in the 1960s.
A good example is the Andrew Barclay No. 807, Bon Accord, which features on the £1 stamp. Bon Accord was built in 1897 and belonged to the Aberdeen Gas Works and is shown working along the city's Miller Street in June 1962.
2012
(March 8 2012)
Commemorative
Designed by Delaney Design Consultants
Size 41mm (h) x 30mm (v)
Printed by Cartor Security Print
Print Process Lithography
Perforations 14.5 x 14
Gum PVA
Classic Locomotives of Scotland
, Vol.49 No.6 (Issue Details)
Stamps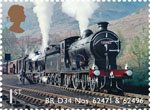 BR D34 Nos. 62471 and 62496
1st
Image preview by Royal Mail
Engine names: Glen Falloch and Glen Loy. Running on the West Highland line, Glen Falloch and Glen Loy are pictured at Ardlui in 1959, rostered to work the 5.45am Glasgow-to-Mallaig (as far as Fort William) and the 2.56pm from Fort William. Designed by WP Reid for the North British Railway, the two locomotives were built in 1913 and 1920 respectively at Cowlairs Works in Glasgow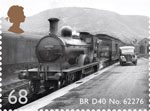 BR D40 No. 62276
68p
Image preview by Royal Mail
Engine name: Andrew Bain. Photographed at Macduff in Aberdeenshire in 1950, Andrew Bain was built for the Great North of Scotland Railway. Completed in October 1920, it was designed by Pickersgill & Heywood and built in Glasgow by the North British Locomotive Company. From a total of 21 D40 engines, only eight, including Andrew Bain, were officially named.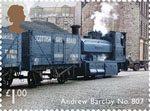 Andrew Barclay No. 807
£1
Image preview by Royal Mail
Engine name: Bon Accord. Andrew Barclay Sons and Company of Kilmarnock manufactured industrial locomotives. They could be found at collieries, shipyards and industrial sites. Delivered to Aberdeen Gas Works in the spring of 1897, Number 807, Bon Accord, was built at a cost of £795. Pictured in 1962 propelling wagons along Aberdeen's Miller Street, the engine was withdrawn from service in the mid 1960s. Following a period of restoration, it now runs on the Royal Deeside Railway.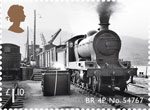 BR 4P No. 54767
£1.10
Image preview by Royal Mail
Engine name: Clan Mackinnon. Completed in 1921, Clan Mackinnon was one of eight Clan Class locomotives built for the Highland Railway. Designed by Christopher Cumming and built by Hawthorn Leslie on Tyneside, it is shown at Kyle of Lochalsh with a fish train in 1948. It survived into British Railways hands and received its BR number before being withdrawn in 1950.
PHQ Cards
PHQ361