Charles Dickens
The stamps feature iconic characters from some of his most famous novels, including Mr Bumble from Oliver Twist, Mr Micawber from David Copperfield and Captain Cuttle from Dombey and Son.
Six of the stamps feature original illustrations adapted from Character Sketches from Charles Dickens, by Joseph Clayton Clarke (otherwise known as Kyd) and originally published around 1890.
2012
(June 19 2012)
Commemorative
Designed by Howard Brown
Size 27mm (h) x 37mm (v)
Printed by Cartor Security Print
Print Process Lithography
Perforations 14 x 14
Gum PVA
Charles Dickens
, Vol.49 No.9 (Issue Details)
Stamps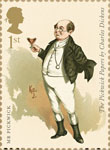 Mr Pickwick
1st
Image preview by Royal Mail
Samuel Pickwick, Esquire, is a kind and wealthy old gentleman, and the founder and perpetual president of the Pickwick Club. To extend his researches into the quaint and curious phenomena of life, he suggests that he and three other "Pickwickians" (Mr Nathaniel Winkle, Mr Augustus Snodgrass, and Mr Tracy Tupman) should make journeys to remote places from London and report on their findings to the other members of the club. Their travels throughout the English countryside by coach provide the chief theme of the novel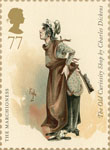 The Marchioness
77p
Image preview by Royal Mail
The Marchioness is the nickname given to the wicked Miss Brass's maidservant by Dick Swiveller, who befriends and later marries her. In the original manuscript it is made explicit that the Marchioness is in fact the illegitimate daughter of Miss Brass, possibly by the novel's villain Quilp, but only a suggestion of this survived in the published edition.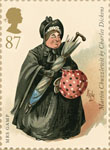 Mrs Gamp
87p
Image preview by Royal Mail
Sarah or Sairey Gamp was a nurse. She was dissolute and drunk and became a notorious stereotype of the bad secular nurse in the early Victorian era, before the reforms of campaigners like Florence Nightingale. The caricature was popular with the British public and umbrellas became known as gamps after her own which was displayed with "particular ostentation". The character was based upon a real nurse described to Dickens by his friend, Angela Burdett-Coutts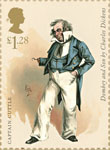 Captain Cuttle
£1.28
Image preview by Royal Mail
Captain Edward Cuttle is left in charge of The Midshipman, Solomon Gill's maritime instrument maker's shop, when Soloman goes off in search of his nephew Walter Gay. Dombey's daughter, Florence, later lodges with Cuttle at The Midshipman when she runs away from her father
PHQ Cards
PHQ366