Jane Austen

Jane Austen
at Royal Mail
The six stamp set, issued on 21 February 2013, commemorates the work of one of Britain's most celebrated authors, and coincides with the 200th anniversary of the publication of her most famous novel, Pride and Prejudice.
2013
(February 21 2013)
Commemorative
Designed by Webb & Webb Design Limited
Size 27mm (h) x 37mm (v)
Printed by Cartor Security Print
Print Process Lithography
Perforations 14 x 14
Phosphor All Over
Gum PVA
Stamps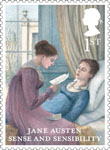 Sense and Sensibility
1st
Image preview by Royal Mail
Sense and Sensibility was Jane Austen's first published work when it appeared in 1811 under the pseudonym "A Lady". Set in southwest England between 1792 and 1797, it follows the life and loves of sisters Elinor and Marianne Dashwood as they experience love, romance and heartbreak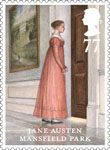 Mansfield Park
77p
Image preview by Royal Mail
Fanny Price is a "poor relation" living with the Bertrams, acutely conscious of her inferior status and yet daring to love their son Edmund from afar. Mansfield Park was the first novel in which the author turned her unerring eye on the concerns of English society at a time of great upheaval.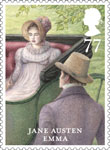 Emma
77p
Image preview by Royal Mail
Twenty-one-year-old Emma Woodhouse comfortably dominates the social order in the village of Highbury, convinced that she has both the understanding and the right to manage other people's lives for their own good. Her well-meant interfering centres on the foolish, if appealing, Harriet Smith, the aloof Jane Fairfax, the dangerously attractive Frank Churchill, and the ambitious young vicar Mr. Elton, and it ends with her complacency shattered, her mind awakened to some of life's more intractable dilemmas, and her happiness assured.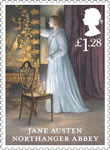 Northanger Abbey
£1.28
Image preview by Royal Mail
Catherine Morland is embroiled in misapprehension, mistreatment, and mortification when she is invited to Northanger Abbey, the forbidding ancestral seat of her suitor, Henry Tilney, until common sense and humour and a crucial clarification of Catherine s financial status puts all to right.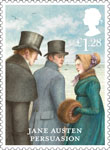 Persuasion
£1.28
Image preview by Royal Mail
Anne Elliot, daughter of the snobbish Sir Walter Elliot, is woman of quiet charm and deep feelings. At nineteen she fell in love with a fearless naval officer, Captain Wentworth. But as he had no fortune, Anne was persuaded to give him up. Eight years later, Wentworth returns, rich and unwed. What happens as the two are thrown together in the social world of Bath and as an eager new suitor appears for Anne is touchingly and wittily told in a masterpiece that is also one of the most entrancing novels in the English language.
PHQ Cards
PHQ373