Classic Locomotives of England
Classic Locomotives of England, issued on 1 February, is the first of four issues which looks at the vital role played by these hardworking steam engines, which made a massive contribution to UK industries in the 18th and 19th centuries.
When the world's first main-line railway, from Liverpool to Manchester, opened in 1830, it heralded a new age of mobility and trade. Across the emerging railway network, steam locomotives of all shapes and sizes faithfully hauled their loads, cared for by a vast army of drivers and firemen, engineers and mechanics.
Many of these locomotives had working lives of several decades on the public railway network and also in many industrial locations like factories, quarries and docks, before diesel and electric technology completely took over in the 1960s.
A good example is the Thor, the Peckett 1689 locomotive featured on the 60p stamp. It was built in 1925 for the Tunnel Cement Company of Purfleet, Essex, and spent its entire life there before being scrapped in 1965.
2011
(February 1 2011)
Commemorative
Size 41mm (h) x 30mm (v)
Printed by Cartor Security Print
Print Process Lithography
Perforations 14.5 x 14
Phosphor All Over
Gum PVA
Classic Locomotives of England
, Vol.48 No.5 (Issue Details)
Stamps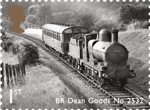 BR Dean Goods No. 2352
1st
Image preview by Royal Mail
A Newbury bound British Railways local service Dean Goods Class locomotive at East Garton photographed in 1951. These sturdy Victorian goods locomotives saw a great deal of use in both world wars, but by the 1950s they had been relegated to light duties, such as hauling passenger trains on rural branch lines.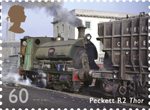 Peckett R2 Thor
60p
Image preview by Royal Mail
This Peckett 1689, named Thor was built in 1925 for the Tunnel Cement Company of Purfleet, Essex. Compact, powerful and rugged, industrial locomotives were the all-purpose workhorses of plants such as Tunnel Cement and many were used continuously for several decades.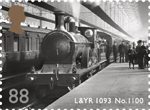 L & YR 1093 No. 1100
88p
Image preview by Royal Mail
The Lancashire & Yorkshire Railway locomotive photographed here at Liverpool Exchange Station in 1909 is pulling the 2.10 to Hull. From the middle of the 19th century, British companies offered integrated travel to continental Europe, combining rail services with steamships which sailed from ports around the United Kingdom.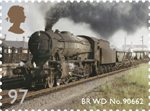 BR WD No. 90662
97p
Image preview by Royal Mail
During the Second World War heavy-freight "Austerity"' locomotives were built for military service, transporting goods and troops. Before the Normandy Landings, the Army had very little use for these locomotives, so they were loaned to the "Big Four" railway companies. After June 1944, "Austerity" locomotives were shipped out to France. Eventually British Rail had 733 of these locos.
PHQ Cards
PHQ345